FREQUENTLY ASKED QUESTIONS
Do you have a shop front or are you online only? 

We are very proud of our retail shop which is located at 95 Bower Road, Ethelton in Adelaide, South Australia. We would love to see you and your pooch in store but understand that sometimes its just easier if we come to you. If that's the case please check out our delivery or online store options. 
Do you deliver? 

Yes! We ship our non-perishable products via Australia Post anywhere in Australia.

Our delivery service for raw meat and packaged meals is currently paused, but will be returning very soon.

We will deliver to Adelaide metro areas every Wednesday. All deliveries are transported by our very own refrigerated Pet Butcher trucks. 

Orders for raw meat and packaged meals can be collected at our Ethelton store. (Henley Beach store opening in March)
I live interstate, can I buy your products? 

Yes. We can deliver a select range of our non perishable items anywhere in Australia. 
What are your delivery days?

We will deliver to Adelaide Metro areas on Wednesday.
Do you do bulk orders? 

Yes. We are always happy to discuss bulk orders and pricing for any of our products. Please contact us for a discussion. 
Can I stock your products in my shop? 

Yes. We offer a great range of products that are available and suitable for wholesaling. Please contact us for a discussion about how we can work together. 
Can I set up recurring orders? 

Yes. We can take care of regular deliveries for you. Speak to us about how to set this up or process via the checkout when provided with this option. 
Where are you located?

The Pet Butcher is located at

95 Bower Road, Ethelton, SA, 5015.

Our Henley Beach store will open in late March 2023

9/15 Henley Beach Road, Henley Beach, SA, 5022

Interstate locations will be opening soon.
Do you butcher pets? :-) 

Most definitely not! We love our pets and yours too.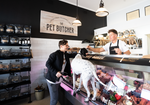 our story
At The Pet Butcher we love our pets, which is why we wanted to create healthy, high-quality food that they love to eat. 
We believe the old saying "you are what you eat" rings true for our pets as well. That's why we only use the freshest, highest quality foods for our pet's meals and treats. Nothing processed, no "numbers", just good old fashioned fresh and home cooked food with lots of variety which leaves our pets feeling and looking great and living their best lives. 
When we came across a traditional old butcher shop with character frontage that had been trading as a butcher for nearly 100 years, we knew the time had arrived for us to bring our concept to life and The Pet Butcher was born.
CONTACT US